Specializing in Vintage Impressionistic California & American Fine Art for Sale
We are always in the market for the purchase or consignment of fine art paintings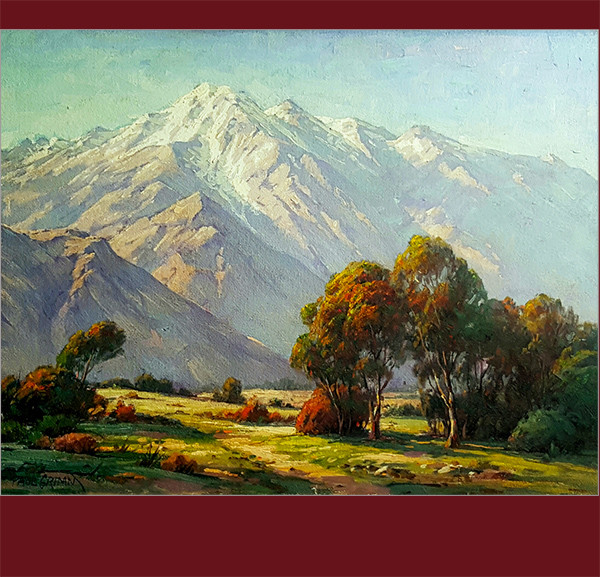 Paul Grimm (1891-1974)
"California Foothills"
One of California's best known painters, Paul Grimm is for both his fine desert landscapes and his majestic images of the Sierra Nevada mountains.
He was a ardent painter of desert scenes and lived much of his life in the Palm Springs area. His desert works are highly appreciated by art lovers and collectors.
This particular work of art captures the majesty of the Southern California deserts and foothills with the special light to be found there.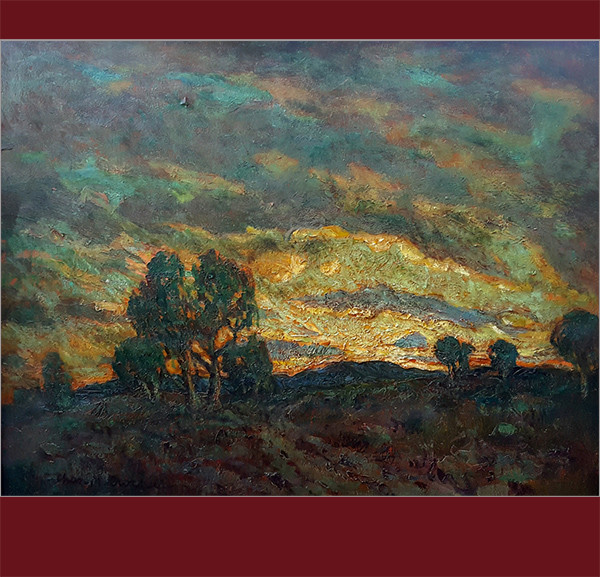 Charles Crocker (1877-1950)
"Early Morning"
Charles Crocker had a humble beginning, born in a log cabin in Illinois. He dropped out of school but went on to study art in Decatur with Jean Mannheim and at the AIC, then later moved west to California. He set up shop first in San Francisco, where he also worked for the Gazette. Then he moved to Los Angeles in 1919 and found success as a painter. He later moved back to Chicago and died there in 1950. He is best known for his brilliant landscapes, with this work being no exception.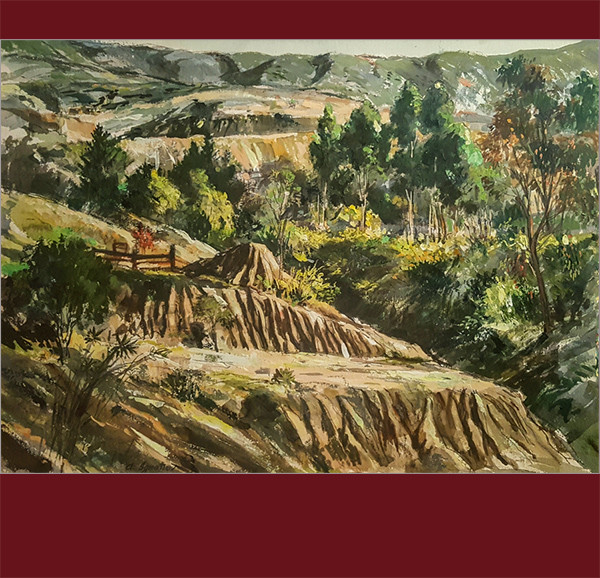 Alexander Ignatiev (1913-1995)
"Laguna Canyon"
Alexander Ignatiev was born in Russian, and fled during the revolution, making his way to China. He then came to San Francisco in 1923, living in California until his death in 1995, making his final home in Laguna Beach.
He then studied for four years at the Chouinard Art School under Millard Sheets, Phil Paradise, and Lawrence Murphy. He worked as an animator for 50 years, including studios such as Warner Brothers, Hanna-Barbera and Walt Disney. He also was a fine art painter and his talent is well demonstrated in this lovely watercolor of Laguna Canyon.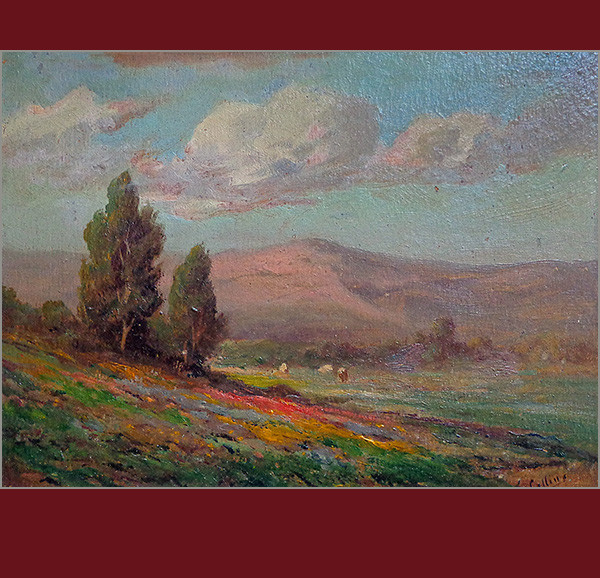 Angel Espoy (1879-1963)
"California Wildflowers"
Born in Spain, Angel Espoy made his way to New York, then onto San Francisco and finally onto Southern California, where he spent the rest of his life.
He painted many scenes throughout California. Romantic and rich colors can be found in many of his works and this is a lovely example of his ability to capture the landscapes and beauty that the region was renown for.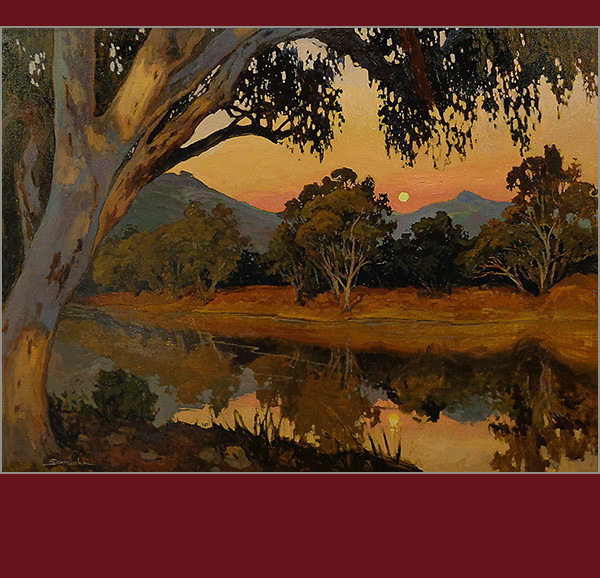 Jan Schmuckal-Contemporary
"Rising Heat"
Jan Schmuckal is one of our most popular contemporary artists, in fact her works are almost impossible to keep in the gallery-they literally fly off the walls.
Her command of color, drama and composition is amazing and we invite you to explore her works.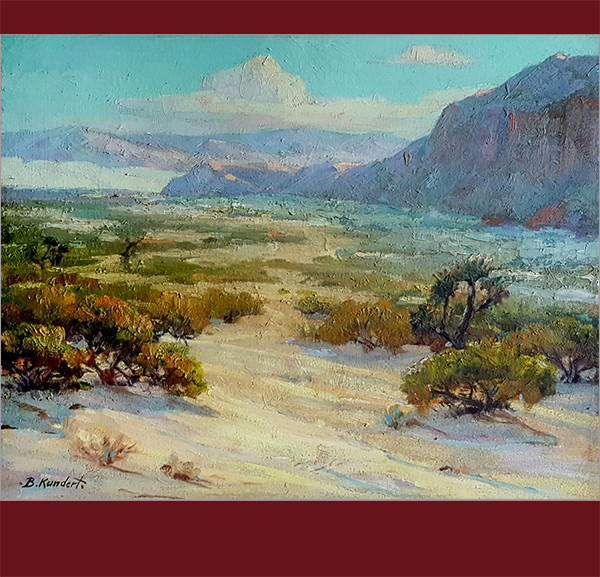 Balthasar Kundert (1892-1985)
"Near Palm Springs"
Balthasar Kundert was born in Linthal, Switzerland on Nov. 3, 1892. Quite the traveler, he first worked as a waiter in Paris and later as a store clerk in Peru before finally making his way to San Francisco in the 1930's. There he began his art studies, later moving to Los Angeles where he studied under the great California painter Nicolai Fechin. Kundert had a great command of color and landscapes, with this desert work being a fine example of his skill and aesthetic. He died in Lubbock, TX in August 1985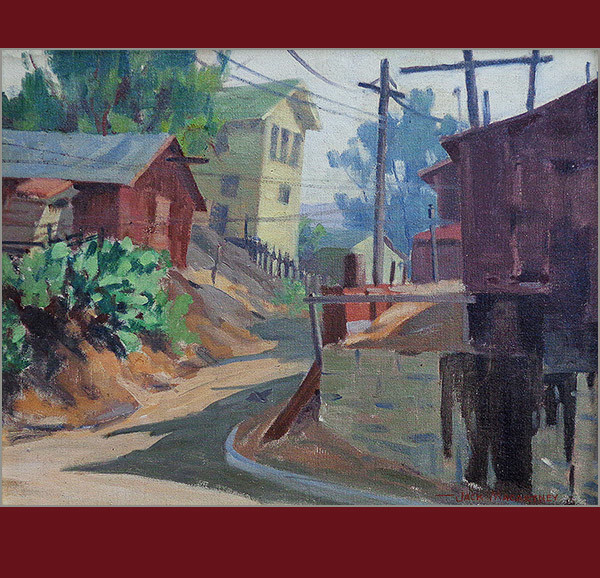 Jack Macartney (1893-1976)
"Awaiting Redevelopment"
Jack Macartney was born in San Francisco but made his move to Los Angeles in 1903, when it was still a small city–just 150,000 lived there then. He moved to Laguna Beach in 1958 and spent the rest of his life there.
He studied with some of the California greats including Sam Hyde Harris, William McDermitt and Edgar Payne. He was well appreciated and received numerous awards and exhibited broadly. As this painting clearly demonstrates he had a wonderful command of color and composition.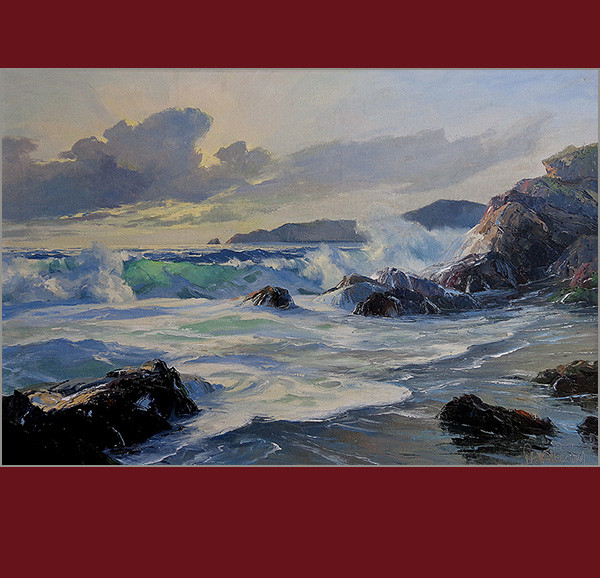 Bennett Bradbury (1914-1991)
"California Surf"
Bennett Bradbury was born in Massachusetts. His parents were professional classical musicians and he grew up surrounded by such artistic greats as Rachmaninoff, Horowitz and Kriesler. Bennett demonstrated early talent for painting and even earned a scholarship at the age of 15 to the Boston Museum of Art.
He is well known for his fine seascapes and coastal scenes and this work is a fine example of his use of brilliant and dramatic color and composition to capture the eye.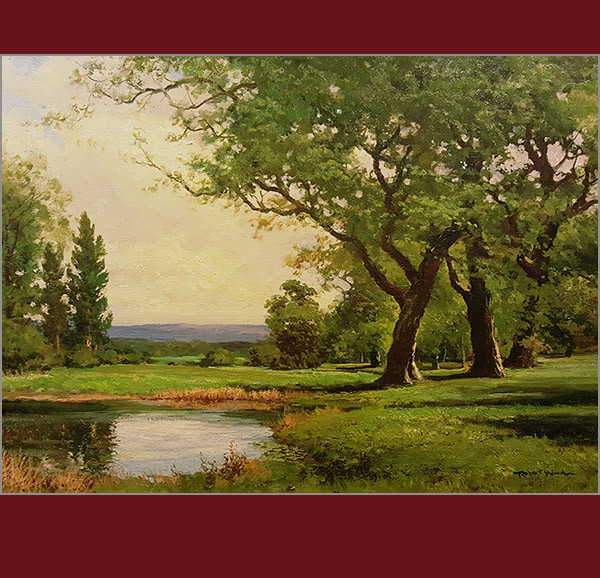 Robert Wood (1889-1979)
"California Vista"
Born in England, Robert Wood spent much of his life in America and in California. His landscapes caught the eye and imagination of many collectors, and his works were intensely popular and widely reproduced.
This peaceful landscape captures his superb ability to play with light and composition. He clearly loved nature and his many fine landscapes communicate the beauty of America.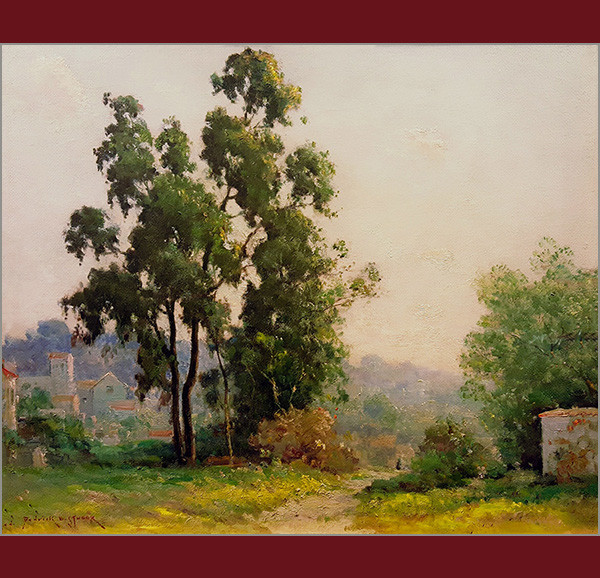 Dedrick Stuber (1878-1954)
"Hollywood Hills"
Well known as a painter of California landscapes, Dedrick Stuber was actually born in New York City. He moved to Los Angeles around 1915 and rapidly established himself as an artist. His work is well collected and represented in museums.
Best known for pastoral scenes and seascapes this work demonstrates his talent at capturing light and composition in a romantic style.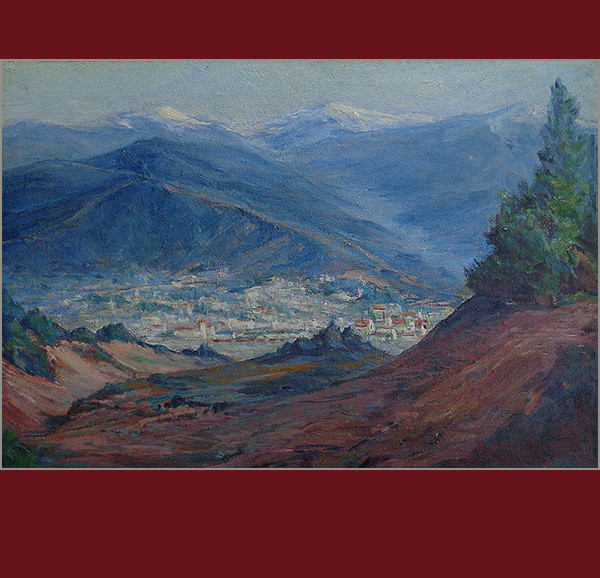 Benjamin Brown (1865-1942)
"Overlooking the San Fernando Valley"
Benjamin Brown was born in Arkansas. He studied art in Saint Louis and then spent time in Paris studying at the Academy Julian.
He is well known for his Impressionist landscapes, many of the Sierra Nevada Mountains and vast, colorful fields of poppies. This work clearly demonstrates his skill and captures a long vanished image of early California.
"The purpose of art is washing the dust of daily life off our souls…" Pablo Picasso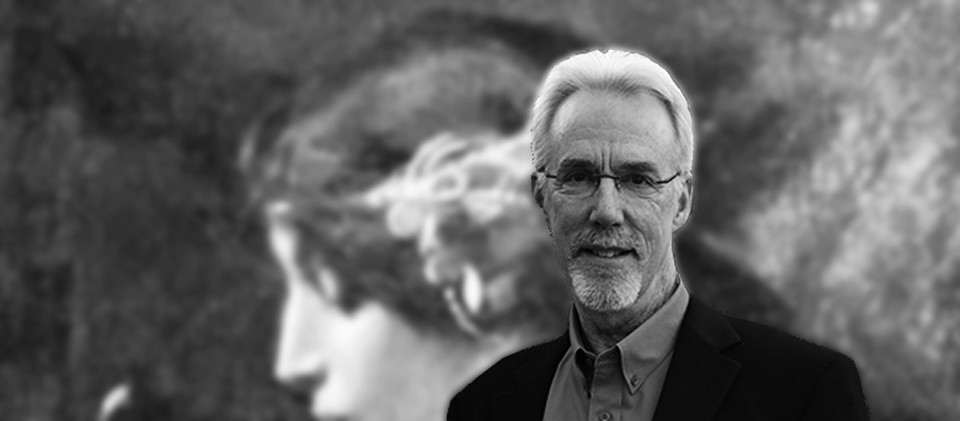 Hello, my name is Ron Vander Molen.
For over the past 20 years I have devoted my life and my time to works of fine art. During that time I have maintained a focus and passion for vintage California and American Artists, circa 1890-1940. That era was an intensively creative period for California and American artists, during which they developed their own vision of the Impressionist and other new art movements coming out of Europe during that period.
Today those works have found increasing favor and interest with collectors and investors alike.
What started as a local gallery has now grown on a much broader scale and we now sell to collectors around the world and have developed a reputation as one of California's premier destinations and websites for collectors of American and California Impressionism.
With over 20 years of experience offering a broad selection of quality vintage art, we pride ourselves in offering carefully selected paintings that represent an era of exceptional American art.
Naturally all the great artists were once contemporaries and we take great pride in supporting select contemporary artists that display both the talent and spirit that these earlier fine artists possessed and demonstrated.
Our mission is to bring fine art to as many individuals, homes and collectors as possible and so we have always sought to offer an affordability level that is unique to the industry, while maintaining a high level of fine quality art.
Please enjoy your time on our site, there is quite a bit to see and enjoy, and we invite you to drop by our fine art gallery, located in Pasadena Antiques and Design, 330 South Fair Oaks, Pasadena, CA, to enjoy the beauty of these pieces first-hand.
We actively seek new works of art and can assist you in acquiring fine art to suit your needs. Please contact us by phone or email on our contact page.
Join Our Mailing List
Keep up-to-date with our new acquisitions, art events and of course our amazing estate sales!